Figure/Ground | 25 01 --> 22 02 2009
Christian Mayer & Werner Feiersinger
De titel van de tentoonstelling Figure/Ground dient als losse verbinding tussen de getoonde kunstwerken. Konkreet sluit de titel het best aan bij de kollages van Fiona Rukschcio, waarin figuren zonder hoofd in ruw aangegeven neongele landschappen staan, het individu in de wijdte van de civiele ruimte. Een over langere tijd ontstaan kunstwerk van acht meter lang, verbindt dagboekachtige notities, uit kranten en tijdschriften uitgesneden foto's en teksten en tekeningen tot een fries over konsumptiekultuur en liefdesleven.
Christian Mayer heeft zijn grootformaat wandwerk ['Les Vues de l'Amerique du Nord', 2008] gebaseerd op een panoramisch behangpapier uit het begin van de 19e eeuw, waarbij hij de kleurrijke voorstelling van de 'Nieuwe Wereld' tot een silhouet reduceert. Twee ingekaderde originele stukken behangpapier worden ervoor geplaatst en vertellen van het wonen en het reizen als verwante industrieen in de konsumptiemaatschappij.
Sasha Pirker toont in haar video ['John Lautner, The Desert Springs Motel', 2007] het door de Amerikaanse architekt John Lautner in 1947 gebouwde huis voor een filmproducent en zijn gasten. De kamera beweegt zich in rustige bewegingen door het kleine gebouw in de woestijn van Californie, terwijl de eigenaar, de schrijver Steve Lowe in enkele woorden zijn levensverhaal en dat van het huis vertelt.
Werner Feiersinger's skulpturen ensemble ['Zonder Titel', 2008], dat gedeeltelijk in de tuin van de galerie doorloopt lijkt op industrieel aangemaakte objekten - obstakels, turnapparaten, kledijstanden - en is toch vreemd charismatisch, weigert zich een affirmatieve illusie te geven van bruikbaarheid. De staanders in verschillende kleuren staan verspreid in de ruimte, de staven die ze verbinden liggen gedeeltelijk op de bodem, geleiden de bezoeker of staan in de weg.
In de kollages van Andreas Fogarasi ['Antwerp Sights/Architecture', 2009] werden konfettigrote geabstraheerde afbeeldingen van gebouwen afzonderlijk op grote kartons gekleefd. Deze kleine ikonen werden uit stadsplannen uitgesneden en tonen moderne 'landmarks' en architekturen, die - niettegenstaande hun eigen beeldkracht - reeds vaak gebruikt werden om opnieuw als logo herkenbaar te zijn.
Anna Artaker en Meike Schmidt-Gleim volgen in hun projekt ['Les Archives des Barbares', 2003] de figuur van de barbaar als 'bedreigende andere' dwars door de literatuurgeschiedenis en etymologie. Een kunstenaarsboek verbindt honderden, in bibliotheken gefotografeerde, boektitels over het begrijpen van de barbaren tot een vertelling; een groot met de hand getekend diagram spant een associatief net van Barbapapa over Bollywood en Bra-Burning tot Homer Simpson.
Sasha Pirker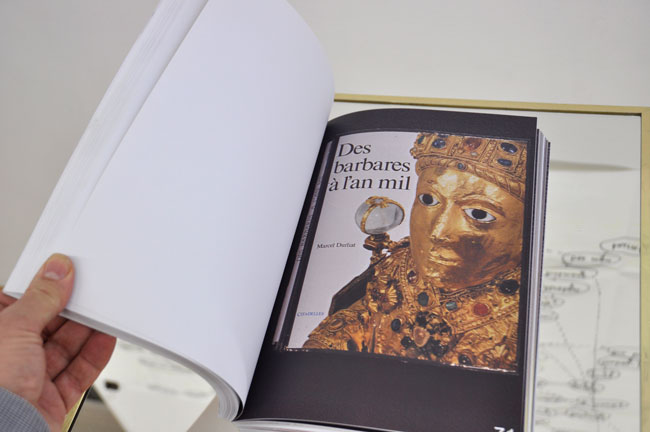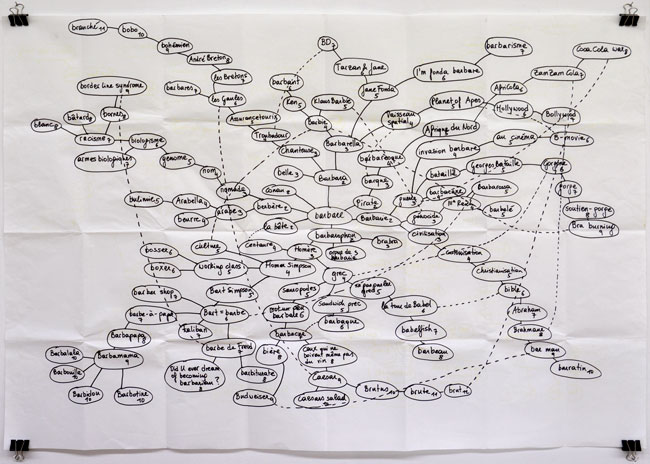 Ana Artaker/Meike Schmidt-Gleim
Der Titel der Ausstellung Figure/Ground fungiert als lose Klammer für die gezeigten Arbeiten. Am konkretesten bezieht er sich auf die Collagen von Fiona Rukschcio, in denen kopflose Figuren in grob angedeuteten neongelben Landschaften stehen, das Individuum in der Weite des zivilisatorischen Raumes. Eine über längere Zeit entstandene 8 Meter lange Arbeit verbindet tagebuchartige Notizen, aus Zeitungen und Magazinen ausgeschnittene Bilder und Texte und Zeichnungen zu einem Fries über Konsumkultur und Liebesleben.
Christian Mayer hat seine großformatige Wandarbeit ("Les Vues de l'Amérique du Nord", 2008) auf Grundlage einer Panoramatapete aus dem frühen 19. Jahrhundert entworfen, wobei er die farbenprächtige Darstellung der "Neuen Welt" auf eine Silhouette reduziert. Zwei gerahmte originale Tapetenbahnen lehnen davor und erzählen vom Wohnen und Reisen als verwandte Industrien der Wunschproduktion.
Sasha Pirker zeigt in ihrem Video ("John Lautner, The Desert Springs Motel", 2007) das 1947 vom amerikanischen Architekten John Lautner für einen Filmproduzenten und seine Gäste gebaute Haus. Die Kamera bewegt sich in ruhigen Einstellungen durch das kleine Gebäude in der kalifornischen Wüste, während der Besitzer, der Schriftsteller Steve Lowe in knappen Worten die Geschichte seines Lebens und des Hauses erzählt.
Werner Feiersingers Skulpturengruppe (Ohne Titel, 2008), die teilweise in den Garten der Galerie hinausreicht ähnelt industriell hergestellten Objekten – Absperrungen, Turngeräten, Kleiderständern – und ist doch seltsam auratisch, verweigert sich einer affirmativen Illusion der Benutzbarkeit. Die Steher sind in verschiedenen Farben grundiert und stehen lose im Raum, die sie verbindenden Stangen liegen teilweise am Boden, leiten den Besucher oder stehen im Weg.
In den Collagen von Andreas Fogarasi ("Antwerp Sights/Architecture", 2009) sind konfettigrosse abstrahierte Abbildungen von Gebäuden einzeln auf grosse Kartons geklebt. Diese kleinen Icons sind aus Stadtplänen ausgeschnitten und zeigen moderne Landmarks, Architekturen, die häufig schon auf ihr Potential hin geplant werden, als Logo wiedererkennbar zu sein.
Anna Artaker und Meike Schmidt-Gleim folgen in Ihrem Projekt ("Les Archives des Barbares" 2003) der Figur des Barbaren als "bedrohlichem Anderen" quer durch die Literaturgeschichte und Etymologie. Ein Künstlerbuch verbindet hunderte in Bibliotheken fotografierte Buchtitel zum Begriff des Barbaren zu einer Narration, ein großes handgezeichnetes Diagramm spannt ein assoziatives Netz von Barbapapa über Bollywood und Bra-Burning bis Homer Simpson.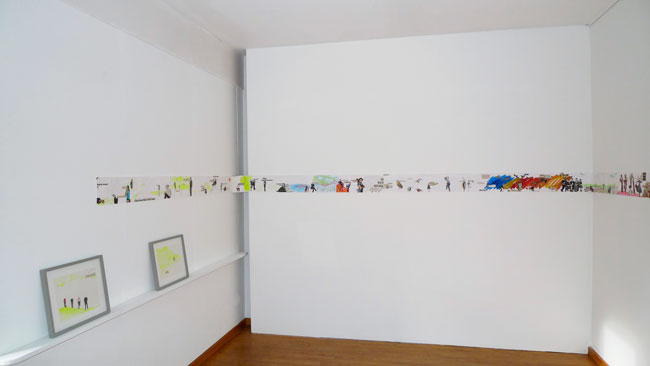 Fiona Rukschio | to see the complete panorama click here
The title of the exhibition Figure/Ground serves as a loose binding between the artworks on view. There is a direct connection with the 'collage' works of Fiona Rukschcio, where headless figures stand in raw designed neon yellow landscapes, the individual in the width of the civilisated space. A during longer time realised eight meter long work connects diarylike notes, cut out from newspapers and magazines, plus texts and drawings to a frieze about consumption culture and love life.
Christian Mayer developed his largescale wallwork ['Les Vues de l'Amerique du Nord', 2008] on the basis of a panoramic wallpaper form the early 19th century, where he reduces the colourfull representation of the 'new world' to a silhoutte. Two framed original wallpaper stripes lean on it and tell about living and travelling as related sectors from the wishindustry.
Sasha Pirker shows in her video ['John Lautner, The Desert Springs Motel', 2007] the in 1947 from american architect John Lautner constructed house for a filmproducer and his guests. The camera moves in quiet frames through the small building in the californian desert, while the owner Steve Lowe, tells in a few words the history of his life and the house.
Werner Feiersinger's sculpture group ['Without Title', 2008], that is partially installed in the garden of the gallery, resembles industrial fabricated objects - obstructions, gymnastic gear, clothing stalls - and is rarely auratic, refuses to give an affirmative illusion of usefullness. The uprights in different colors are distributed in space, the connecting bars lie partially on the floor, or obstruct the visitors way.
In the collages of Andreas Fogarasi ['Antwerp Sights/Architecture', 2009] building-images, small as confetti, were glued seperately on large cartons. These small icons were cut from city plans and show modern landmarks and architecture, which - despite their own image force - were already often used to be recognizable as logo.
Anna Artaker and Meike Schmidt-Gleim follow in their project ['Les Archives des Barbares', 2003] the figure of the barbarian as 'threatening other' through the history of literature and etymology. An artist's book connects hunderds, in library photographed, book titles on the understanding of the barbarians to a story; a large hand-drawn diagram spans an associative network from Barbapapa over Bollywood and Bra-Bruning to Homer Simpson.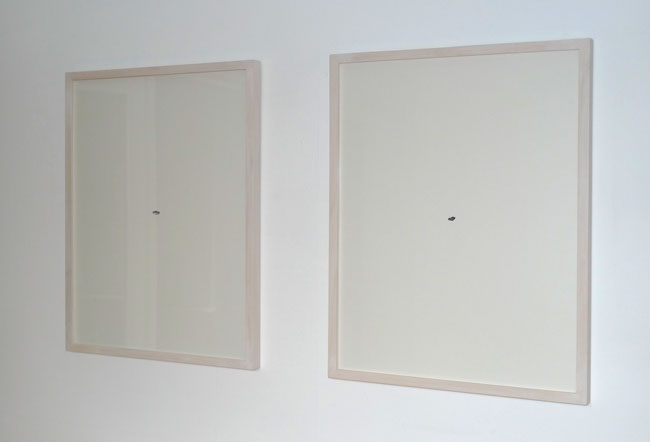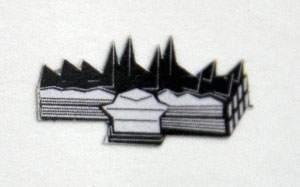 Andreas Fogarasi
Short CV's
Anna Artaker (*1976, Vienna. Lives in Vienna)
Studies of art and philosophy in Vienna and Paris.
Exhibitions at Salzburger Kunstverein; MACBA, Barcelona; O.K., Linz; International Gyumri Biennale, Armenia; Palais de Tokyo, Paris; Mücsarnok/Kunsthalle, Budapest; Public>, Paris; Widerstand - Art et Politique en Autriche, Espace Donguy, Paris (curator with Eric Alliez and Gerhard Frommel); Austrian Pavilion, 48. Biennale di Venezia (with Wochenklausur) a.o.
Meike Schmidt-Gleim (*1972, Wolfsburg/Germany. Lives in Paris)
Studies of art and philosophy in Vienna.
Artist and philosopher. Works on the research project "European Identity seen through the lens of the figure of the Barbarian" at Universitá degli Studi del Piemonte Orientale, Alessandria
Exhibitions at Public>, Paris; Generali Foundation, Vienna; Secession, Vienna; Kunsthalle Exnergasse, Vienna; MAK Center, Los Angeles; Salzburger Kunstverein; Palais de Tokyo, Paris a.o.
Werner Feiersinger (*1966, Brixlegg/Austria. Lives in Vienna)
Studies of art in Vienna and Maastricht.
Solo exhibitions at Secession, Vienna; Galerie Martin Janda, Vienna; Z33, Hasselt; Jos Jamar Gallery, Antwerp (with Jon Thompson); Group exhibtions at Villa Manin Centro d'Arte Contemporanea, Codroipo; Künstlerhaus Bregenz; Kunsthalle Exnergasse, Vienna; Tiroler Kunstpavillon, Innsbruck; Galerie Bernhard Knaus, Mannheim; Sammlung Falckenberg, Hamburg; NICC, Antwerpen; De Beyerd, Breda; De Appel, Amsterdam a.o.
Andreas Fogarasi (*1977, Vienna. Lives in Vienna)
Studies of art and architecture in Vienna and Paris, Co-editor of dérive - Magazine for Urban Studies.
Solo exhibitions at MAK - Museum of Applied Arts, Vienna; Grazer Kunstverein; Ernst Museum, Budapest; Georg Kargl Fine Arts, Vienna; Lombard Freid Projects, New York; Hungarian Pavilion, 52nd Biennale di Venezia; Group exhibitions at Kunstraum der Universität Lüneburg; Kunstverein Düsseldorf; Galerie im Taxispalais, Innsbruck; Kunsthalle Nürnberg; Centro de Arte Reina Sofia, Madrid; Trafo, Budapest; Manifesta 4, Frankfurt a.o.
Christian Mayer (*1976, Sigmaringen/Germany. Lives in Vienna)
Studies of art in Saarbrücken, Glasgow and Vienna. Co-editor of the magazine Chicago, Times, Plotter, Helvetica, DIN, ...
Solo exhibitions at Mezzanin gallery, Vienna; Austrian Cultural Forum, Warsaw; Kastanienallee 82, Berlin; Group exhibtions: Manifesta 7, Trentino; Georg Kargl Fine Arts, Vienna; Shedhalle, Zürich; Circuit, Lausanne; Secession, Vienna; Flaca gallery, London; Kunsthalle Exnergasse, Vienna; Galerie 5020, Salzburg; Offspace, Vienna a.o.
Sasha Pirker (*1969, Vienna. Lives in Vienna)
Studies of linguistics and architecture in Vienna.
Artist and curator. Screenings of her videos at Istanbul International Short Film Festival; Viennale - Vienna International Film Festival; Cinéma du Réel, Paris; Transmediale, Berlin; Denver International Film Festival; International Short Film Festival, Uppsala; Diagonale, Graz; Iowa City Documentary Film Festival; Leeds - International Film Festival and at exhibitions at Künstlerhaus, Vienna; Théatre du Dijon; Münchner Stadtmuseum a.o.
Fiona Rukschcio (*1972, Vienna. Lives in Vienna and Paris)
Studies of art and political science in Vienna and Belfast.
Exhibitions at Lothringer13, München; Fotogalerie Wien; Galerie im Taxispalais, Innsbruck; Marin Gallery, Umag; Fotomuseum Winterthur; Künstlerhaus Wien; Salzburger Kunstverein; Galerie 5020, Salzburg; ZKM, Karlsruhe; Museum der Moderne, Salzburg; Westlicht, Vienna; KBB Art Space, Barcelona; Kunstraum Karlsruhe; Castello di Rivoli Museo d`Arte Contemporanea, Torino; Generali Foundation, Vienna a.o.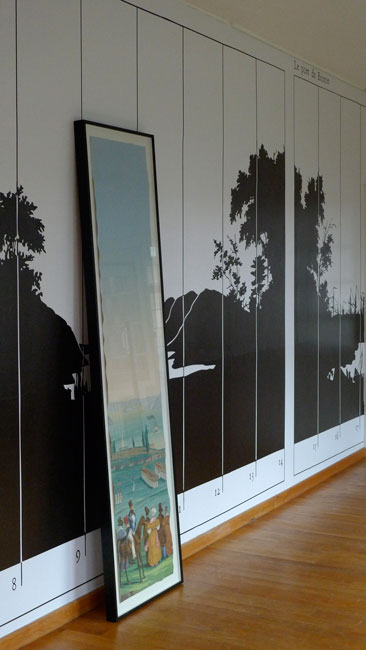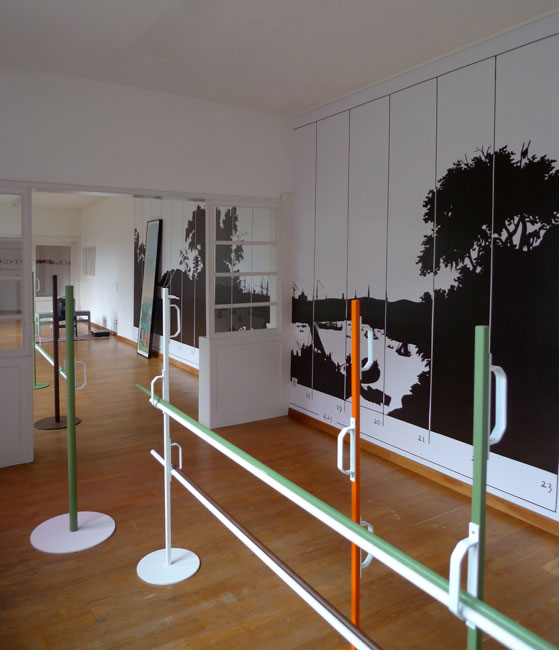 PRESS AND MEDIA REACTIONS:
Bart Geerts wrote about this exhibition in his blog on BONEFAST, 03-02-2009, read it here
Review in ARTFORUM 03.02.2009, read it here or in the archives of AF
Article in h<ART>, february 2009
Group photo on January 26th, 2009: