Herman Van Ingelgem: a few things, 7/9 - 19/10/2008
open: Friday, Saturday & Sunday 2 - 6 pm | vrijdag, zaterdag & zondag 14 - 18 uur, of na afspraak
Meaning is never immutable, fixed, or absolute, but always fluid and shifting. Meaning is never singular but rather like a cluster of points large and small that grow or die off in a seemingly organic way and fluctuate unstoppably in every possible direction a human could imagine. One can give a meaning to something, or accept, reject, ignore or lose a meaning. Meaning can be dormant, can grow, change, diminish or wear out.
When setting up an exhibition, this issue arises constantly and emphatically, and in a certain sense this is always the main theme of every exhibition. After all, every artist concerns himself with exposing flows of meaning; he tracks them down, analyses them, criticises them, or simply floats along with them.
A Few Things is Herman Van Ingelgem's third exhibition at the Transit gallery and, in this case too, part of the whole is charting the process of putting an exhibition together.
Van Ingelgem has converted the gallery space into four separate rooms in which he presents installations, photos and a video.
His work is always based on familiar objects (usable or otherwise) and architectural elements (a water-pipe, a curtain, a section of wall, etc.).
This is a specific choice. These objects are after all without pretension. In the course of time they have revealed themselves completely and their relationship with us seems pure and honest. It is precisely because we know them through and through that an opening arises. A possibility of generating meaning in an alternative way, of looking for a fold into which not a single ideology shines its light. Where you can go back and forth between one reality and another without losing yourself along the way. (Translation from dutch by Gregory Ball)
Betekenis is nooit onveranderlijk, vast of absoluut maar altijd vloeiend en vlottend. Betekenis is nooit enkelvoudig maar eerder cluster-vormig met grote en kleine centra die op een ogenschijnlijk organische manier aangroeien of afsterven en in ieder geval onstuitbaar fluctueren in alle mogelijke richtingen die een mens zich maar kan voorstellen.
Men kan betekenis geven, aanvaarden, afstoten, negeren, verliezen...
Betekenis kan sluimeren, groeien, veranderen, afnemen, verslijten,...
Bij het opbouwen van een tentoonstelling drijft deze problematiek voortdurend en nadrukkelijk aan de oppervlakte en in zekere zin is dit steeds het hoofdthema van elke tentoonstelling. Iedere kunstenaar houdt zich immers bezig met het blootleggen van betekenisstromen, hij spoort ze op, analyseert ze, bekritiseert ze, of laat zich er simpelweg op meedrijven.
A Few Things is de derde solotentoonstelling van Herman Van Ingelgem in galerie Transit en ook hier wordt het maken van de tentoonstelling mee in kaart gebracht.
Van Ingelgem bouwde de galerieruimte om tot vier afzonderlijke kamers. Hierin presenteert hij installaties, foto's en een video.
Zijn werk vertrekt telkens vanuit vertrouwde (gebruiks)voorwerpen en architectuurelementen. Een waterleidingbuis, een gordijn, een stuk wand...
Dit is een specifieke keuze. Deze objecten zijn immers pretentieloos. Zij hebben zich mettertijd volledig laten kennen en hun relatie tot ons lijkt zuiver en eerlijk. Precies omdat we ze door en door kennen ontstaat er een opening. Een mogelijkheid om op een alternatieve manier betekenis te genereren, een plooi te zoeken waar geen enkele ideologie haar licht schijnt. Waar je van de ene naar de andere realiteit kan pendelen zonder je onderweg te verliezen.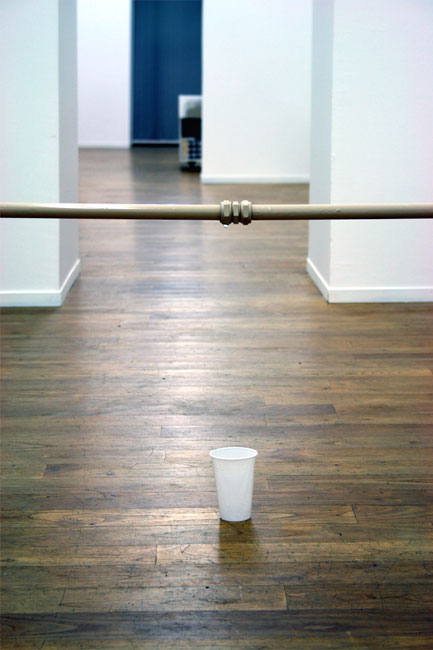 Drop Drop Drop - water conduct, plastic cup, water - 2008
Plastic Freedom - shower curtain - 2008
Untitled 1 - wood, plastic and existing window - 2008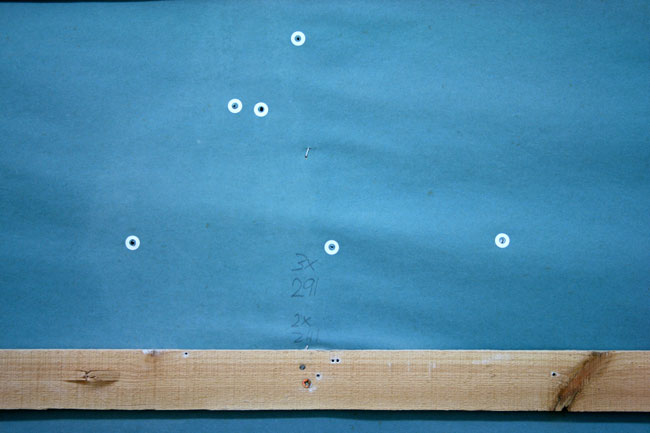 Untitled 2 [fragment] - 2008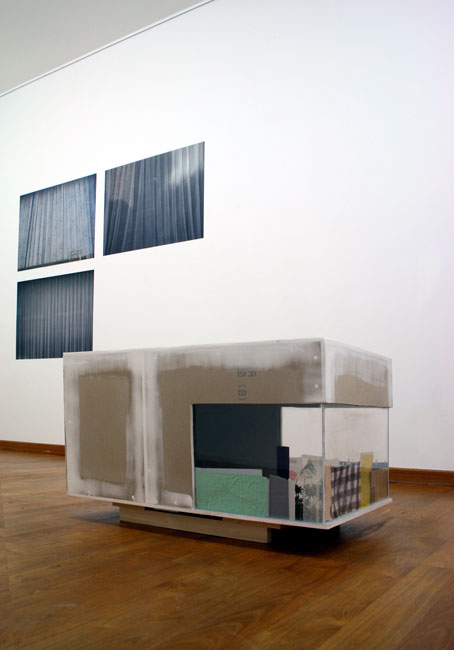 a few things - overview - 2008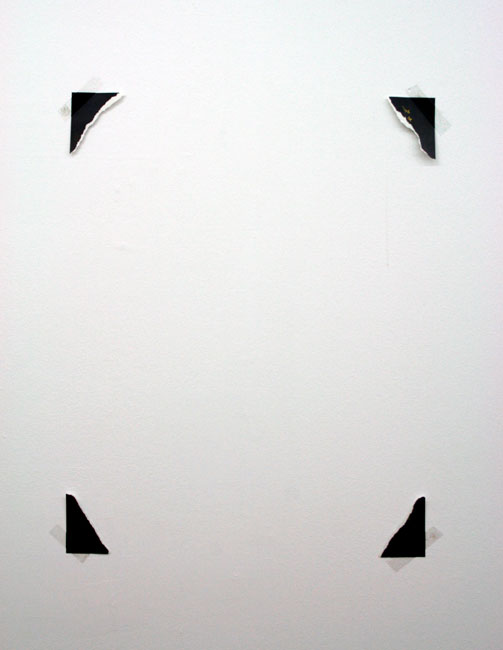 Blow Up - paper - 2008
a few things - overview - 2008
Pink Mobile Sculpture - chewing gum - 2008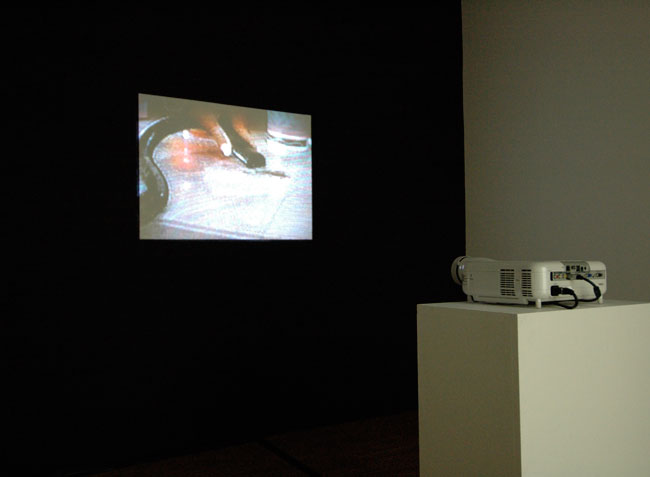 Blowjob - dvd - 2008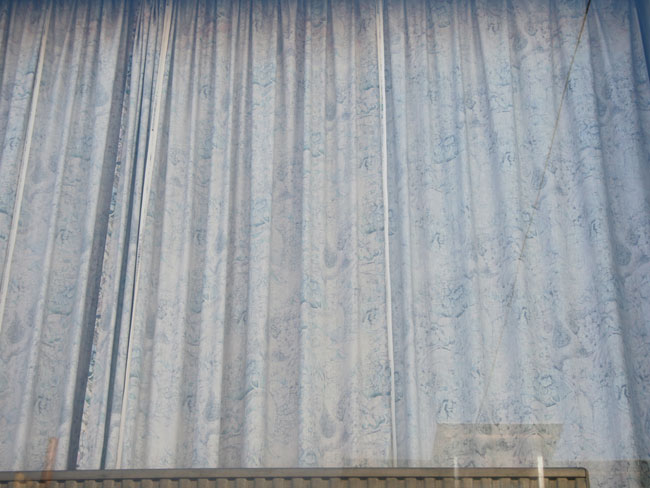 Remove 1 - photo - 60 x 80 cm - 2008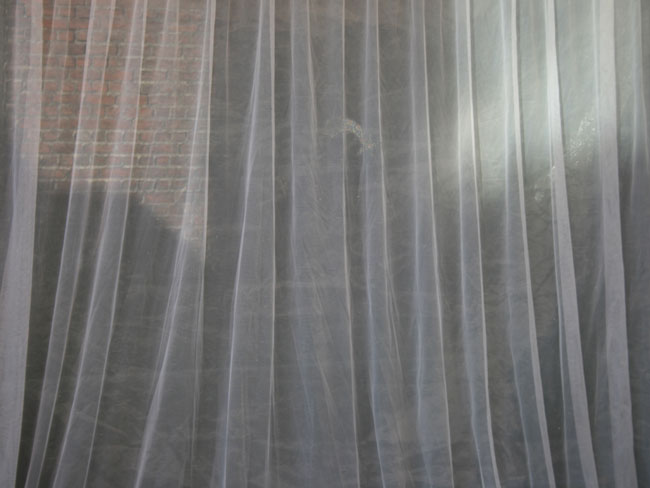 Remove 2 - photo - 60 x 80 cm - 2008
Remove 3- photo - 60 x 80 cm - 2008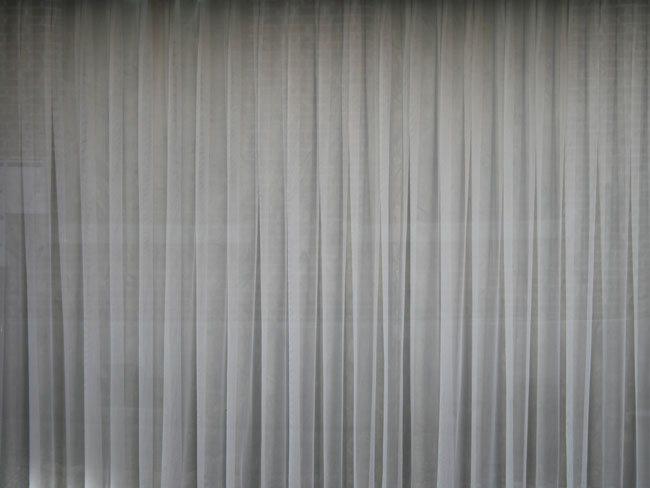 Remove 4 - photo - 60 x 80 cm - 2008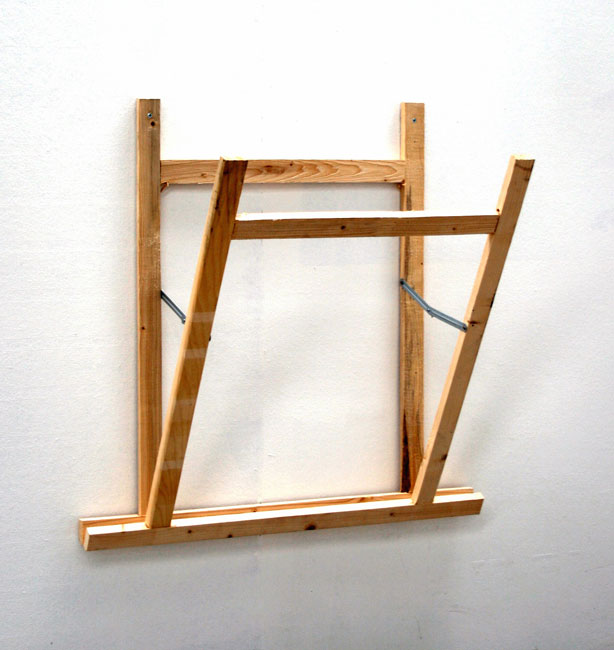 Untitled –2008 - wood, iron – edition 30 – price: 50 euro