Yazan Khalili
The Artwork | 2017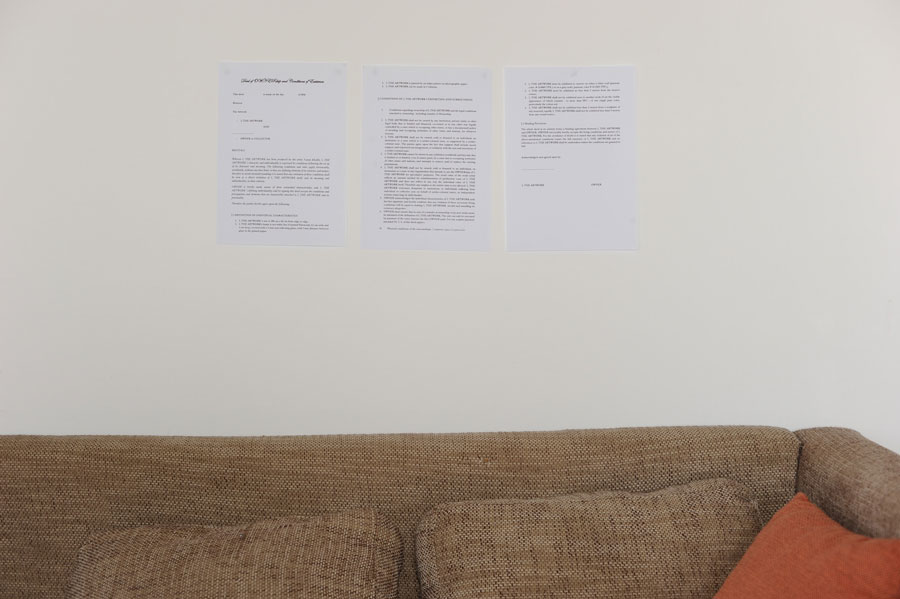 The Artwork is a photograph that contains a contract that speaks in the name of the artwork.
The main premise of this work is the question of boycotting, more precisely: can an artwork boycott? And can we take seriously what the artwork is trying to say? Creating a situation in which the artwork demands the boycott of the institution it refuses to be exhibited in, owned or collected by.
The Artwork is a photograph (79 x 120 cm) which contains the contract that has been drawn up by Dr. Martin Heller, a Berlin-based lawyer who specializes in art-related issues.
The contract, even though it is written in legal terms and wording, does not stand up when presented in a legal context. Its failure is due to the fact that the artwork itself cannot speak in a legal sense, it cannot be part of the contract, it cannot speak for itself, only the artist can speak for it, which is why this contract fails to represent the artwork in itself. The contract creates a kind of legal and ethical paradox.
The project aims to investigate the boundaries between law and justice, how justice cannot be expressed through law, and how law becomes a language that includes and excludes subjects according to its own regulations and structures.
The photograph contains the contract the artwork speaks through, stating its clear demands on the way in which it can be exhibited, collected, and owned. However, whoever exhibits, collects, or owns this artwork can decide whether to obey these demands and conditions or not, depending on whether they take the artwork seriously, or not.
The work has been produced with the great help and assistance of Dr. Martin Heller.
The Aliens | 15. February - 22. March 2015
Yazan Khalili is een Palestijns kunstenaar, geboren in 1981, Syrië.
Hij studeerde architectuur in Palestina, en kunst in Londen. Hij stelde eerder tentoon in Amman, Rome, Granada, Dubai, London, Venetië en Berlijn.
Khalili brengt een verhaal over een groep astronauten die terugkeren naar een landschap dat ze dachten verlaten te hebben. Ze worden geconfronteerd met een onverwachte omgeving die hen doet afvragen of hun terugkeer wel reëel is, of misschien is elke terugkeer wel een fictie?
De tentoonstelling bevat foto's, diashows, lightboxen en objecten.
Dit is de tweede solo tentoonstelling van Yazan Khalili in galerie Transit.
Een gratis publicatie [60 pag.] is beschikbaar in de galerie.

The whole act of making a landscape of Palestine, or what can be called "The Open"—that which is "outside" the urban space; of making it a timeless continuation of the imagined biblical landscape, has been part of the Zionist process for colonizing the land and replacing its native inhabitants. This process knows two phases: Firstly, by making the native inhabitants part of the scenery; part of the landscape, the image is lent an "authentic" aesthetic. Secondly, by inverting that very process, and by looking at those very people as undeveloped characters who fail to understand the value of the landscape, it is reasoned that the land should be taken away from them and the desert turned into a blooming country of "milk and honey". Subjects produce the scenery and then disappear.
This reduction of Palestine into the "status" of a simple landscape alienates Palestinians from the land, but interestingly, not from the image that represents the landscape. Access to the land is limited and restricted by different encounters: temporary and structural, procedural and bureaucratic. The Wall, checkpoints, by-pass and settler-only roads, settlements, military zones, and of course, all the necessary permissions which have become harder than ever to obtain, prevent a sense of familiarity with the landscape. They castrate the possibility of constructing a collective relation in and through the land and its geography. Exile occurs without the indigenous having been expelled; we become passers-by on the road-networks that penetrate the landscape when travelling from one ghetto to another (the ghetto known as Area A as per writ of the Oslo Accords), and we become temporal inhabitants of the roads overlooking that timeless landscape.
Strangely, we, "Palestinians", cannot see that very biblical landscape; we don't belong to it because we are it. Our vital space is its continuation through the history, and when we begin depicting that space as a landscape we begin to give ourselves over to that sense of alienation from what used to be a place.
From the Nakba (Arabic for "catastrophe"–or the loss of Palestine in 1948) throughout the years of occupation, the landscape has been represented as an image of vanishing space, from a possible site to a distant sight that represents all these policies and structures of separation and oppression. These images are produced to represent feelings of loss and trauma from the conflict; images of olive groves, of ancient roots of villages, of the terraces, and more. Images that document the actions of the occupation, showing the gray concrete wall penetrating the land, settlements in the horizon, the misery of the queues of people waiting at checkpoints; whether mass mediated or in art, whether by foreign or local photographers. All these images are familiar to us. This is how we see the land: a landscape practiced through occupation and alienation. We become fixated on the visual representation of our political status; we become familiar to this landscape because we become used to seeing it as an alien place.
Clearly I am not implying that we "Palestinians" never did have a landscape before the British Mandate or the Israeli occupation—far from that. Every nation has a landscape that it relates to, constructing part of its collective narrative through both traversal and imagination. The problem is not in the landscape as a scene, but in the act of transforming the space to become a scene. Violence is not only what is practiced through space, but also in making a landscape out of that violence. The Wall is not only there to separate us from the land, it has also become our landscape.
Landscape of Darkness | 30. January - 6. March 2011
Yazan Khalili was born in Syria on 1 september 1981.
From 1998-2003, he studied architecture at Birzeit University, taking Rula Halawani's photography course there in 2001.
His photography combines his knowledge and interest in architecture, design and theoretical studies. A founder member of the Zan design studio in Ramallah (www.zanstudio.com), he was a finalist in the 2006 Young Artists Award. In 2008, he was an Artist-in-Residence at the Delfina Foundation in London.
Lives and works in Ramallah.
Solo shows include Urban Impression exhibited at French Cultural Centres around Palestine, (2007/08); Margins, Delfina Foundation, London (2008). Selected group shows include Invisible, Ramallah, Amman and Rome (2006/07); No Man's Land, Video Art, Granada, (2008); Mapping, Art Dubai, UAE (2009). He was also one of the participants in Sandi Hilal and Allesandro Petti's Ramallah Syndrome project in the Palestine c/o Venice Pavilion at the 53 Venice Biennale, 2009. His photography explores the relationship between the social and spatial elements of "built-environments."
In the last two years he has been working on the book/photography project "Landscape of Darkness".The project subtly reflect on power tensions and territorial identity through investigations of how darkness can reshape a highly politicized landscape. Looking into the dark spaces, the otherwise fragmented landscape of the occupied area reemerges with the potential of a continuous whole, thus reshaping the operational notions of space and time, light and darkness.
His work has recently been acquired by the British Museum.
Yazan Khalili is een Palestijns kunstenaar, geboren in Syrie op 1 september 1981.
Hij studeerde architektuur in Palestina, en kunst in Londen. Hij stelde eerder tentoon in Amman, Rome, Granada, Dubai, London [2008] & Biennale van Venetie [2009]. Het British Museum kocht recent werk van hem.
De fotoreeks in Transit reflekteert over machtsverhoudingen en territoriale identiteit door te onderzoeken hoe duisternis een sterk gepolitiseerd landschap kan wijzigen. Bij intens observeren van de donkere landschappen gaan de betekenis van klassieke noties van ruimte en tijd, licht en duisternis langzaam veranderen.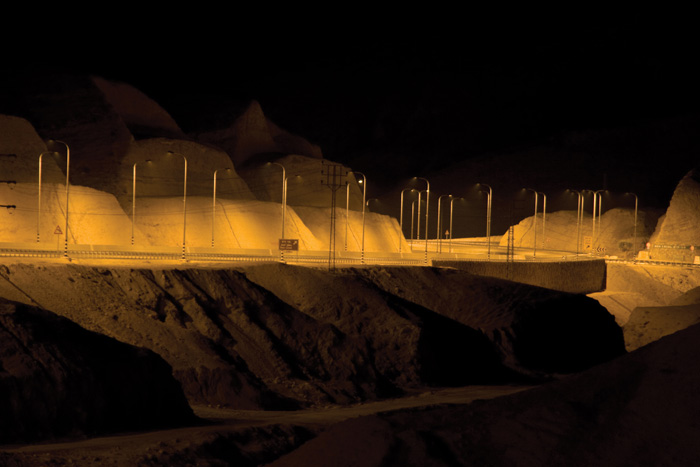 20" | f 7.1
This project was supported by: Arab Fund for Arts and Culture (AFAC), Al Mawred Al Thaqafy, Young Arab Theatre Fund (YATF)
Landscape of Darkness
In the spring of 2002, during the massive Israeli incursions into West Bank cities, my friend Mohannad and I were stuck in the town of Birzeit for several weeks under an 'easy' curfew. At 3am one morning, restless from the crushing boredom and power outages, we decided to go for a walk to a nearby hill. It was so dark that we could barely see ahead of us and though walking slowly, we kept falling but thanks to the power of boredom we reached the top of that hill.
And there it was. Right there in that total darkness, shining like a diamond that had just landed on earth was the city, the coastline: Yaffa. There was nothing between us except the vast darkness.
Mohannad looked at me and said, "Oh my God, I never knew it was this close". "I've never been there…" I answered, not taking my eyes off it. Without much talk we set off, heading towards it. So close, we were convinced it would only take us a few hours to reach. We walked and walked, and as we walked, the first smear of dawn was already bleaching the rim of the Mediterranean sky. The more the skies lit up, the more the city slowly moved away from us until finally, it completely vanished into the light.
At that instant of the city vanishing into light, darkness declared itself a landscape. Darkness that in one glimpse brought this fragmented land together, smoothed it and served as a platform where exiled space could be reclaimed and a narrative of a continuous space constructed.
In later years, we began doing continual drives out of Ramallah to other West Bank cities but always trying to be back before the sunset. Everything becomes more suspicious in the dark, and night became this forbidden time due to the fear embedded in us. It took us years before we actually began travelling at night again and passing through it I felt alien not only in the place but also in the time.
In October 2008 I convinced my friend Ziad to drive us out of Ramallah to begin taking landscape photos at night. Over a period of nearly 8 months we could do 4 trips, depending on the availability of the camera - a canon 20D with a sigma lens 18-200 F.3.5/6.3; the car - a 2002 VW Passat; Ziad; myself and the political situation.
Normally, Ziad would come to pick me up around 9pm from my house and drive towards a certain destination: city or a circular route that we would agree on the spot. There was no need for a map as there are not too many road options when driving in the West Bank nowadays. Each trip would take us 6-7 hours. We would stop the car on the edge of the road, turn off the lights, put the tripod up and set the camera to the reading required for the scene, mainly the exposure time.
Night photography uses time as a main element in the image production process. In this process, the image stops being merely still. It soon turns into a motion picture through the accumulation of time on the camera's sensitive plate. In this sense we can begin watching the image as an event by itself because to watch means to look at, or observe attentively, over a period of time thus it becomes an event that contains its own time sequence.
What interests me in this watching/looking relationship is the production of the "landscapic" event: the landscape as an event that is produced through the act of watching and seeing, through our position in and from it and through the passage of time itself. I.e. the darkness contained in these photos is a result of a technical and methodological process that intervenes in, changes and re-produces what the human eye naturally sees due to the gradual physical adjustment of the pupil in darkness. Therefore the image isn't only a documentation of the scene/event as seen by the eye, but it is also a recording of the technique and the process of the photographic production (the camera).
Although the time one spends looking at the photo is different from the time the camera needs to capture it, what I aim to do by adding the exposure time as a caption, is to introduce time as a third dimension into this two dimensional space. In other words, to create an awareness of time not only as a technique but also as an experience of being in this particular landscape where anything might happen while waiting for the camera to finish taking the photo. The time itself may be imbued with an inherent tension, for example, owing to the fact that the question, "what shall I tell the soldiers if they suddenly appear?" is constantly on my mind.
Finally, this project is a result of many conversations and discussions with friends, teachers, and colleagues all of whom did their best to help me develop and realize this book/project and I would like to thank them all.
Lara, Nida, Adania, Yazid, Reem, Centre for Research Architecture, Ghazi, Nawal, Nura, Ziad, Omar, Basma, Ylva, etc…
1' 6" | f 22
'In het voorjaar van 2002, tijdens de massale Israëlische invallen in de steden op de Westelijke Jordaanoever, zaten mijn vriend Mohannad en ik gedurende enkele weken vast in de stad Birzeit, onder een 'losse' avondklok. Op een ochtend, om 3 uur, rusteloos geworden door verveling en de stroomuitvallen, besloten we een wandeling te maken naar een nabijgelegen heuvel. Het was zo donker dat we nauwelijks iets voor ons konden zien en hoewel we langzaam liepen, bleven we maar vallen, maar dankzij de kracht van de verveling bereikten we toch de top van die heuvel.
En daar was ze. Daar in die totale duisternis, glinsterend als een diamant die net op aarde was geland, was de stad, de kustlijn: Yaffa. Er was niets tussen ons, behalve de onmetelijke duisternis.
Mohannad keek me aan en zei: "O mijn God, ik wist niet dat ze zo dichtbij was". "Ik ben er nog nooit geweest ... " antwoordde ik, zonder mijn ogen ervan af te wenden. Zonder veel te praten vertrokken we in haar richting. Zo dichtbij, we waren ervan overtuigd dat het ons maar een paar uur zou kosten om ze te bereiken. We stapten en stapten, en terwijl we stapten, werd de rand van de Middellandse hemel al opgelicht door het eerste streepje dageraad. Hoe meer de hemel oplichtte, hoe meer de stad zich langzaam van ons verwijderde totdat ze uiteindelijk volledig verdween in het licht.
Op het moment dat de stad in het licht verdween, riep de duisternis zich als landschap uit. De duisternis die in een oogopslag dit gefragmenteerde land bij elkaar bracht, vlakte het af en diende als een platform waar verbannen ruimte kan worden teruggevorderd, en een verhaal van een continue ruimte kan worden geconstrueerd.'
Yazan Khalili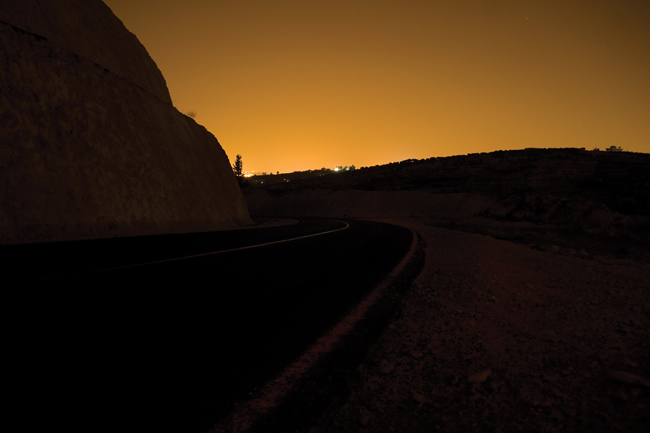 30" | f 5.0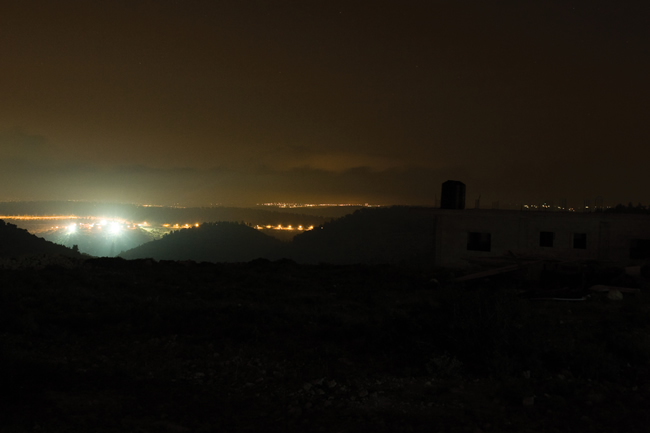 30" | f 6.3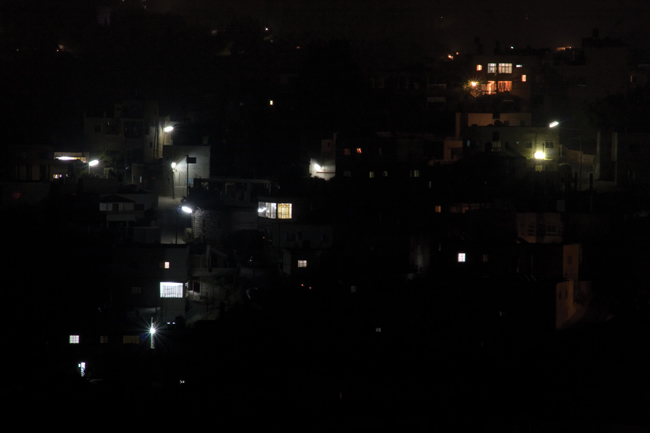 20" | f 18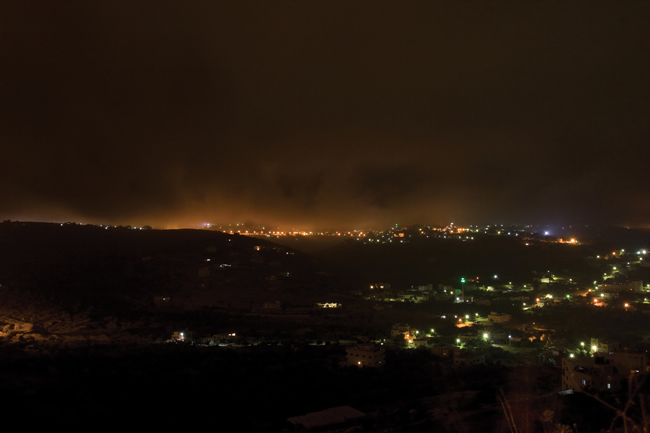 20" | f 5.6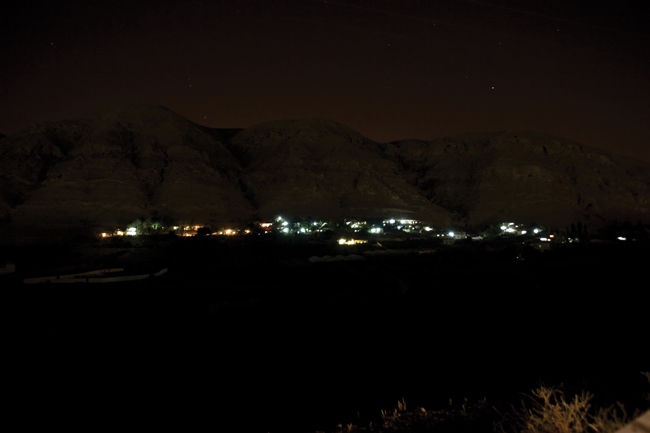 10" | f 4.0
2.5 | f 9.0
30' | f 5.0
click here for more text about the series Landscape of Darkness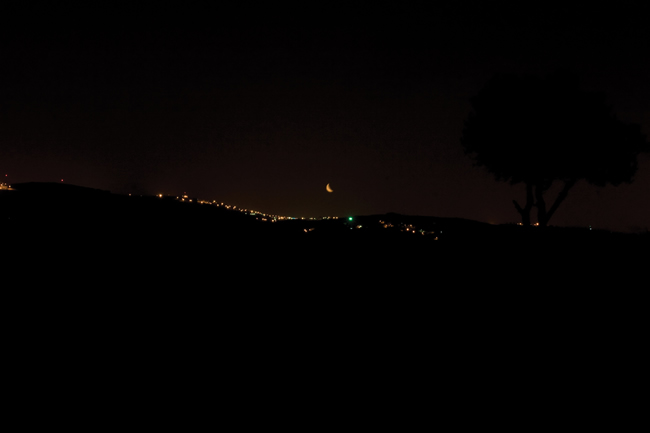 .
30" | f 20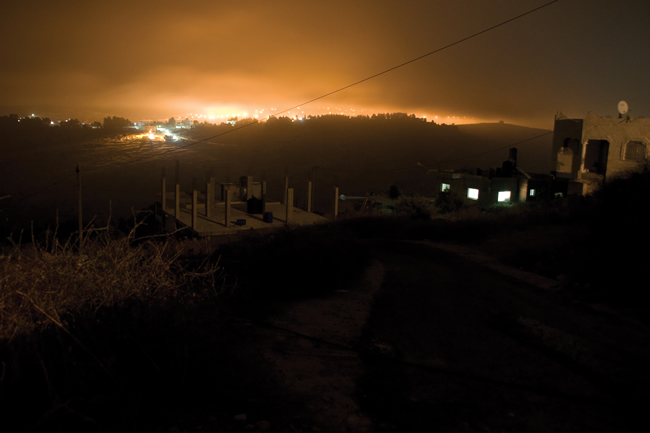 .
30" | f 4.5
.
20" | f 7.1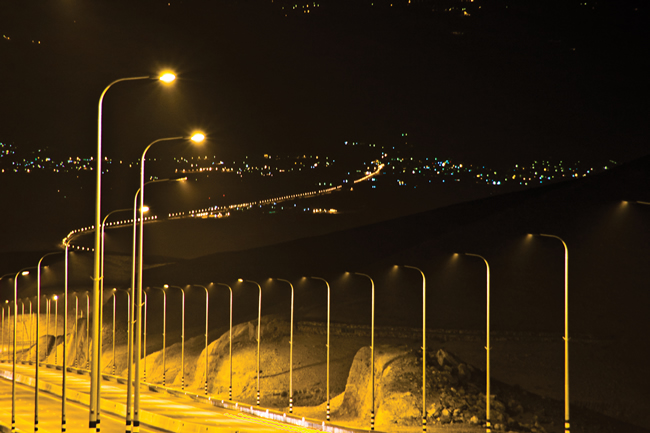 .
3.2" | f 7.1
.
6.0" | f 3.5